Sr. Alpana Palatty SND – Principal High School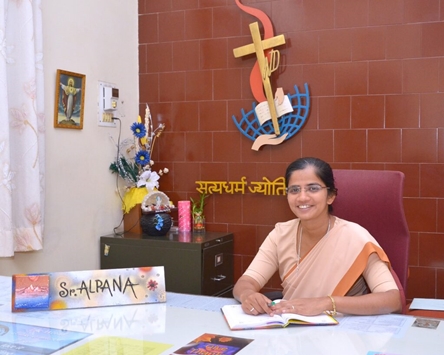 Young, dynamic and visionary, Sr. Alpana Palatty is the current Principal of Sophia High School – the eleventh, since its inception in 1949.
Born in Thuravoor,Kerala,Sr. Alpana is the alumnus of Mar. Augustin's High School. She went on to graduate with Economics, History, Geography and English as her major subjects from Mahajana First Grade College,Mysore. Sister is a post-graduate in English from the University of Mysore and has a professional degree in Education.
She has a long history as a teacher in various Notre Dame Schools across the country, and has taught in a number of places that include Bihar, Delhi, Kerala and Mysore. Her dedication to detail and quest for perfection saw her rise through the ranks. She spent six and a half years at the Notre Dame School in Vettikuzhy, nurturing young minds as the Principal and mentor. In 2005, she was selected to participate in a Youth Conference in Germany and Rome.
Sr. Alpana's extended interaction with students from varied socio-economic and cultural backgrounds has left her with the zeal to moldyoung minds and nurture them to be the harbingers of positive social change. She believes that success comes to those who trust in God's goodness and providence.